Spanish police seized over 1,000 stuffed animals that were part of a private collection worth over £24 million. Almost half of the specimens found are endangered or have already been classified as extinct.
On April 10, officers from Spain's Civil Guard confiscated the collection from a private warehouse in the town of Bétera near Valencia in Eastern Spain.
According to the police, in total 1,090 taxidermy specimens were discovered. Which included complete elephants, white rhinos, cheetahs, leopards, lions, crocodiles, tigers, and a polar bear, as well as 198 elephant tusks.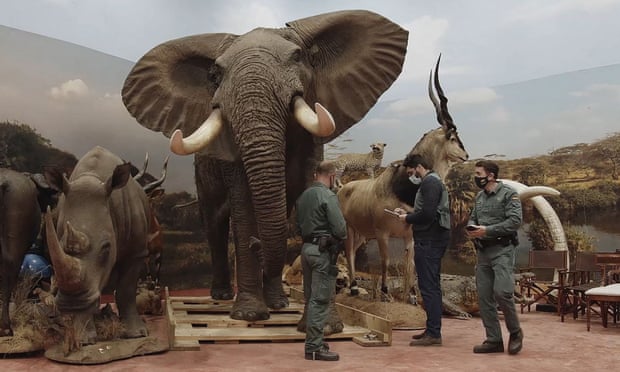 They also discovered other artifacts apart from the stuffed animals. The artifacts included stools that looked to be made out of elephant's foot, and also a chair padded with crocodile skin.
Furthermore, 405 of the specimens were from species that are prohibited from being traded abroad under the Convention on International Trade in Endangered Species of Wild Fauna and Flora. Moreover, they also found a scimitar oryx, which was declared extinct in 2000. And an addax, a type of antelope that is functionally extinct in the wild.
This all was confirmed through a video by ABC News. Also, the inspection team said that the interior of the warehouse looked more like a natural history museum. The industrial warehouse spread around 538,000 sq. ft. area. Which seems to be quite a spacious place to keep all these taxidermy animals.
According to the Police, the owner has already committed crimes against flora and fauna. An investigation was targeted on him in November 2021. However, no arrest has been made so far. Now, the police are going to investigate the warehouse owner in wildlife smuggling as well.
Watch this Cute Video of a Dwarf Dog!