On the Indonesian island of Sumatra, three rare Sumatran tigers were discovered dead after being stuck in traps. On Sunday, a female tiger was discovered dead outside a palm oil plantation in Indonesia's East Aceh area. Her head nearly cut and a snare still hooked in her leg.
According to local police commander Hendra Sukmana, the remains of a male and female tiger were also discovered 500 meters apart. They both had leg injuries.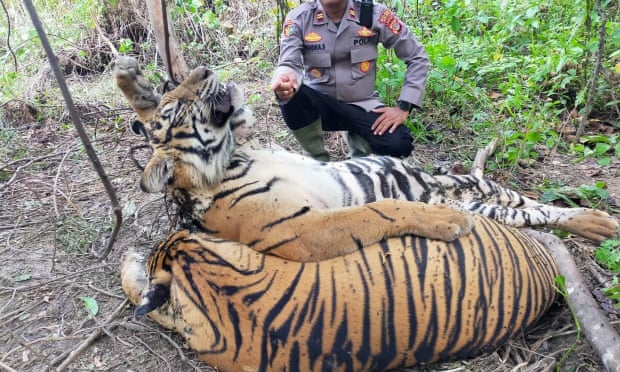 According to Agus Arianto, an autopsy is underway to ascertain the causes of the tigers' deaths. Moreover, multiple traps similar to those used to capture wild pigs on farms were discovered in the area near the deceased tigers.
The International Union for Conservation of Nature categorized the species as severely endangered in 2008. This was when its population was believed to be less than 680. It is now the world's most critically endangered tiger species. Now it has a population of less than 400 individuals. Therefore, the recent deaths have been described as a setback by authorities.
In October of last year, a female tiger was discovered dead in a snare trap in the Bukit Batu wildlife reserve in the Bengkalis area. Later, two cubs and an adult tiger were discovered dead in the Leuser Ecosystem Area, a forested zone in Aceh and North Sumatra provinces dedicated to tiger conservation.
Last June, four guys were jailed for reportedly capturing a tiger in a snare trap and selling its carcass. Under Indonesia's Conservation of Natural Resources and Ecosystems law, intentionally killing protected species is unlawful, and violators can face up to five years in prison and a fine of 100 million rupiah (almost $7,000).
Watch this Amazing Video!